Hello!
I am Michèle. I was born in Switzerland in a family of travel-addicted nomads. I moved to Florence when I was 19 and fell in love with this town: I decided to stay.
Once I met Fabrizio and our two kids Gioia and Miro were born, we started to look for a peaceful place where to live, where our children could grow up in a healthy environment and admidst nature and its rhythms.
And then we found our little corner of paradise.

An old barn at the end of the road…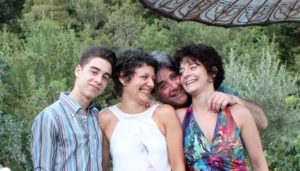 A ruin of an old traditional barn, nestled among the enchanting setting of vineyards, woods, litlle torrents and waterfalls. In three years Fabrizio, my husband has restored it by dedicating all his energy, attention, creativity and sense of aesthetics to restore the building. Each stone has been touched and moved to find its perfect place. We chose natural materials following the principles of green building and the position of the house and its setting is perfect according the principles of Feng Shui. The restauration work is finished but we still have got a lot of ideas and every year we implement some of them.
Now Fabrizio has returned to his vocation, music-art-therapy, and I dedicate my time to my work as a Shiatsu therapist and to our B&B. Pampering my guests, exchanging views and ideas and sharing fullfilling moments is a joyful and precious experience! Our house has become a peacful little island for our family and friends and we are very much looking forward to welcome you at "Il Cielo"!
Robert:
"Michele made us feel very welcome at her warm, cozy apartment at the back of her home on this small, beautiful farm near Greve. The location was easy to find, and close to Greve and Panzano. Michele went out of her way to help us with an itinerary, and make sure our needs were taken care of. She even baked us a pastry one morning and left it for us with fresh flowers. She has a couple of puppies that we enjoyed. We liked the room–very clean and nice furnishings. Enjoyed sitting outside, even in November and having breakfast looking at the grape vines."